Theyre cheaper than cabs, less effort than a bike and more convenient than buses. But as the number of e-scooter accidents rises, a backlash is growing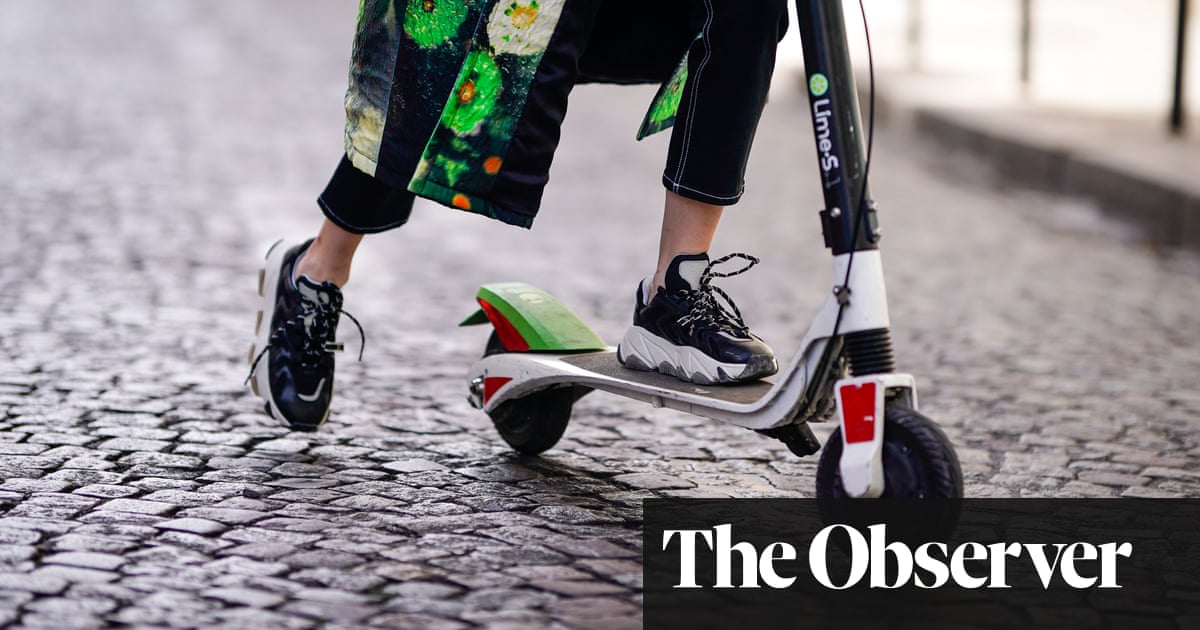 Most of the people riding electric scooters around Copenhagen glide like swans, bodies motionless and serene with heads tilted into the sunshine.
I am the ugly duckling, wobbling and jerking while I struggle to figure out exactly how this two-wheeled contraption works. Where do I put my feet? How hard do I thumb the accelerator? And how on earth am I meant to indicate left and press the brake with my left hand at the same time?
It doesnt take long to start gliding, even if I dont feel very swanlike, or to notice that people in Denmark have found all sorts of less conventional ways to use e-scooters since they were introduced in January. Couple after couple perch together, heels of their feet barely balancing on the footplate. A traveller presses his suitcase between his knees while he crosses the junction near Tivoli Gardens. Two teenagers dart along the footpath outside the citys central station, nipping between pedestrians.
Ive seen a guy sitting on a suitcase using it as a scooter chair, said Jesper Hemmingsen, a researcher at the Danish council for road safety, the RST. Ive seen parents delivering their children to school, a child standing at the front and their parents steering. Its an easy way to get there, but its not a safe way. Ive seen parents hire scooters for their kids to give them something to do. People treat them like toys. But they have no protection.
Over the past 18 months, it feels as though e-scooters have taken over many of the worlds cities. Scooter share firms have staked claims in more than 100 cities worldwide. Lime and Bird (from the US) and Voi, Circ, Flash and Tier (from Europe), are start-ups dripping with venture capital backing, attempting to create and carve up a market that is changing cityscapes everywhere.
But piles of scooters discarded by the roadside, a worrying number of injuries and even some road deaths have provoked a growing backlash in some places.
Those dangers were underscored recently when Emily Hartridge, a 35-year-old YouTuber and TV presenter, was killed while riding an e-scooter in Battersea, south-west London, after a collision with a lorry at a roundabout. Last month Paris the e-scooter hub of Europe, with an estimated 20,000 trottinettes on the streets saw its first fatality after a young man was hit by a truck.
So are e-scooters a vital new part of modern, eco-friendly urban transport, or are they a risky and unnecessary fad, pushed by tech investors desperate to disrupt the status quo? And what can people in the UK, where the use of e-scooters remains illegal on both roads and pavements despite the rise in models for sale in shops learn from the experience of other European cities?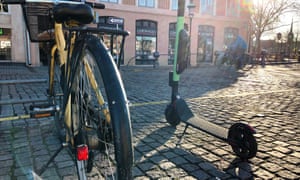 Read more: https://www.theguardian.com/cities/2019/jul/15/invasion-electric-scooter-backlash